Best Online Guitar Lessons Websites
Picking and comparing the best online guitar lessons that will help you become a better guitar player no matter what your skill level is difficult. There are so many different guitar training courses out there. How are you supposed to know which one will actually help you become a better guitarists and which ones are a waste of time?
Unfortunately, there isn't one top online guitar lesson program for everyone. We are all different, have different musical tastes and styles, and are at different skill levels. Beginner guitar players will want lessons that explain chords and break down simple guitar playing techniques. Some lesson programs specialize in this where as others are more geared toward intermediate and advanced skill level teaching. Likewise, advanced guitarists don't want to waste time with simple lessons. They want to learn soloing techniques, theory, and advanced chord progressions.
That is why I made this guitar resource. I've reviewed all of the most popular guitar lessons courses online to help you compare each one and decide which one is right for you. That way you can stop looking for lessons and start learning how to play guitar.
Below is a list of the most popular online guitar lessons along with their course features, platform advantages, and free trial coupon code discounts.
---
Quick Links to Top Guitar Lesson Courses
---
Best Guitar Lesson Websites Online in 2020
Click Below To Research Top 6 Best Guitar Training Courses & Lesson Programs [2020 Top Guitar Teaching Lessons NEW!]
Guitar Tricks Lesons
JamPlay Lessons
ArtistWorks Lessons
Fender Play Lessons
Jamorama Lessons
TrueFire Guitar Lessons
---
Guitar Tricks
Guitar Tricks is one of the oldest online guitar lesson websites. Started in 1998, Guitar Tricks revolutionized the way students learn how to play guitar. Their step-by-step beginner guitar lessons teach you proper guitar technique and quickly help you advance to expert player level status for over 20 year!
Here are some of their key features.
11,000 guitar lessons
700 songs to learn
Trademarked core learning system
Beginner through Advanced Lessons
Many different playing styles
Free iPhone app
Engaged Community
Stand out feature: The best Guitar Tricks feature is their lesson platform. Each lesson is divided up into difficulty levels, so you can easily navigate to the next level once you master the easy stuff. It really speeds up learning to play guitar!
---
JamPlay
Jamplay first started offering their world-class guitar training in 2006. Since then they have developed one of the most impressive libraries of guitar teaching materials. Their unique approach to teaching really helps students follow the lessons and understand the techniques. Each instructional video has multiple camera angles and play along speeds, so you won't get left behind.
Here are some of the key features:
6,250+ Guitar lessons
92 Rockstar Guitar Instructors
Live Guitar Courses Streamed
Progress reports and tracking tools
Great Guitar Community
Every Guitar Style Covered!
Stand out feature: Jamplay excels in different playing styles. They have lessons for everything from fingerstyle to metal and all of their lessons are taught by big name instructors like Phil Keaggy, Don Ross, and Tosin Abasi. They will help you learn guitar no matter what style you are interested in.
---
ArtistWorks
ArtistWorks launched their first guitar teaching platform in 2008 as an online music school that teaches most instruments, not just guitar. Their unique style of teaches has helped them attract some of the biggest name in music to instruct their lessons. Guitarists like Paul Gilbert and Andy Hall have their own master classes to teach you everything from basic guitar technique and theory all the way up to complete shredding!
Here are some of the features:
100's of video lessons
Multiple master class courses
Multiple instrument instructions
Many different music genres
Watch Acoustic and electric guitar instructions in slow motion
Video Exchange for live feedback lessons
Stand out feature: ArtistWorks offers the most comprehensive suite of musical instructions out of any company. They offer lessons on more different style instruments than other platform. This is great for the guitarist who wants to learn guitar and dabble in bass, drums, or vocals as well.
Bottom line: If you want the option of learning different instruments, this course is for you.
---
Fender Play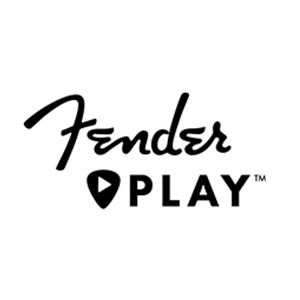 Fender Play is a relatively new comer to the world of guitar lessons, but they have developed a pretty awesome platform so far. Fender launched the Play lessons app in 2017 to help people learn songs. This isn't your traditional guitar instructional video series that teaches you the basics (although they do have plenty of lessons for beginner guitar). This platform teaches you how to rock out and jam to your favorite songs that other places don't have.
Here are some of the features:
Fender Play App
Unrivaled list of songs from top bands and artists
Several different styles of music
Bass lessons included
Stand out feature: Fender Play is a great way to learn guitar. It's an even better way to learn songs from your favorite bands. They have tons of different songs that other websites probably couldn't get the rights to show you. Bands like Foo Fighters, Johnny Cash, Maroon 5, Red Hot Chilli Peppers, and more are available for you to learn.
---
TrueFire
TrueFire is the oldest online learning website for guitar. They started in 1991 and has grown their instruction materials to over 33,000 lessons and 700 length courses! It doesn't matter what you want to learn. They have a course covering it. TrueFire has the most well-known and recognized guitar instructors in the world teaching their courses. Guitarists like Steve Vai, Tommy Emmanuel, and Andy Timmons. Their learning paths help you develop the skills to play different genres of music as well as develop your own tone within those genres.
Here are some TrueFire features:
33,000 lessons
700 master courses
Unique learning paths to develop your style
Tons of jam a long songs
Awesome community forum
More unique lessons than any other company
Stand out feature: TrueFire's sand out feature is it's lessons. It has so many different types of unique lessons that teach you every type of guitar playing. They have unique courses on Jazz soloing, Brazilian guitar, riffing, and more. Obviously, they have tons of beginner guitar courses too.
Bottom line: If you want to learn guitar and want the option of digging deep into different playing different styles and unique lessons, this is the course for you!
---
Top 2020 Guitar Training Course Summary and Comparison Guide
| Best Online Guitar Lesson Course & Materials | Best Feature: |
| --- | --- |
| Guitar Tricks | Most Beginner Lessons |
| Jamplay | Most Guitar Style Videos |
| ArtistWorks | Most Lessons |
| Fender Play | Great Song Selection |
| TrueFire | Best Celebrity Instructors |
| Justin Guitar | Easy-to-Follow Training |
| Guitar Instructor | New Guitar Materials |